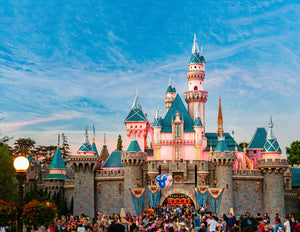 How to Plan an Unforgettable Disney Vacation
Planning a Disney vacation is like stepping into a world of magic and wonder, where dreams come true for both children and adults alike. With its iconic parks, enchanting characters, and thrilling attractions, a trip to Disneyland or Disney World promises an unforgettable experience. However, navigating the ins and outs of planning such a vacation can be overwhelming. Fear not! In this comprehensive guide, we will walk you through the essential steps to help you plan the Disney vacation of your dreams.
Decide on the Destination: Disneyland or Disney World?
The first step in planning a Disney vacation is to choose your destination. Disneyland, located in Anaheim, California, offers the original Disney experience with two parks: Disneyland Park and Disney California Adventure Park. On the other hand, Disney World in Orlando, Florida, is a sprawling resort complex consisting of four main parks: Magic Kingdom, Epcot, Disney's Hollywood Studios, and Disney's Animal Kingdom. Consider factors such as proximity, budget, and attractions offered at each location before making your decision.
Determine the Ideal Time to Visit
Timing is crucial when planning a Disney vacation. Consider factors such as crowd levels, weather, and special events. Off-peak seasons generally have lower crowds and better prices, but keep in mind that certain attractions and shows may have limited availability. Additionally, check the park's event calendar for special celebrations like Mickey's Not-So-Scary Halloween Party or Epcot International Food & Wine Festival.
Set a Realistic Budget
Disney vacations can be costly, so it's important to set a realistic budget. Consider expenses such as park tickets, accommodations, transportation, meals, and souvenirs. Research different accommodation options, from on-site Disney resorts to nearby hotels, and compare prices. Look for discounted tickets, vacation packages, and dining plans that suit your needs. Don't forget to allocate some funds for souvenirs and extra activities like character dining experiences or backstage tours.
Book Accommodations and Park Tickets in Advance
Once you've determined your budget and travel dates, it's time to book accommodations and park tickets. Disney resorts offer the convenience of staying on-site, with benefits like early park access and transportation. However, off-site hotels can be more budget-friendly. Decide which option works best for your family and make reservations well in advance to secure availability.
Purchase park tickets directly from the Disney website or authorized resellers to avoid scams. Consider options like park hopper tickets or multi-day passes, depending on the duration of your stay and the parks you wish to visit.
Plan Your Park Itinerary
Creating a park itinerary ensures you make the most of your Disney vacation. Research the attractions, shows, and character meet-and-greets available in each park. Prioritize must-see experiences and use the park's official app to check ride wait times and plan your day efficiently. Make dining reservations for popular restaurants, especially those with character dining experiences, as they tend to fill up quickly.
Make FastPass+ and Dining Reservations
Disney World offers FastPass+ and Disneyland has the MaxPass system, both of which allow you to reserve ride and attraction times in advance. Take advantage of these services to minimize wait times for your favorite experiences. Additionally, make dining reservations for table-service restaurants, especially those known for their immersive themes or unique cuisine. Dining reservations can be made up to 180 days in advance and are highly recommended for popular eateries.
Pack Smart and Prepare for the Magic
Finally, it's time to pack for your Disney adventure. Check the weather forecast and pack accordingly, including comfortable shoes for long days of walking. Consider bringing essentials like sunscreen, ponchos, and portable chargers. Familiarize yourself with the park rules and guidelines to ensure a smooth experience.
Remember to prepare yourself and your family for the magic of Disney. Embrace the joy and wonder of the parks, immerse yourself in the enchanting atmosphere, and create lasting memories with your loved ones.
In conclusion,
Planning a Disney vacation requires careful consideration and organization, but the reward is an unforgettable experience filled with magic, joy, and cherished memories. By following these essential steps, you can embark on a journey that transports you to a world of dreams come true. So, start planning, pack your bags, and get ready to be immersed in the enchanting universe of Disney!
---